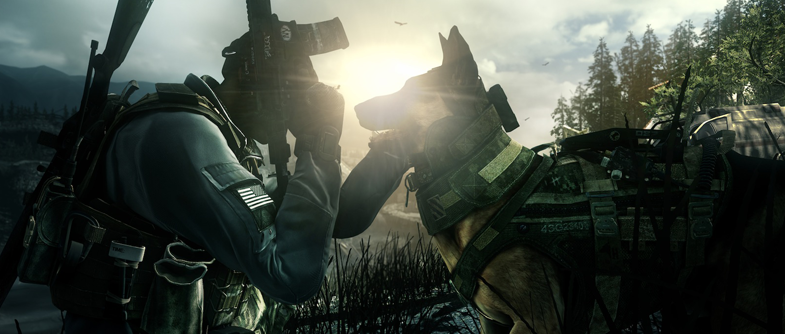 :// INTRO
I'll admit it, I like playing Call of Duty. Not religiously as many people do, hell, I don't even purchase them at launch, much less pre-order.
But for $5.99 at Goodwill, add on top a 50% discount because the tag on it is the color of the day?
Take my money!
:// PRODUCTION QUALITY
The game is a perfect example of "AAA quality" [a term I personally dislike]. The game has a ridiculous quality bar. It looks great and plays extremely tight. But to me, "AAA" does not mean "good".
Now, I highly enjoyed it, most people won't believe me, but I really enjoy the stories. Especially Modern Warfare [I have yet to beat '3 though]. Some people might consider this statement the same as "I only buy Playboy so I can read the articles".
There are times when as a gamer, you just want to rush in and tear stuff up. Some people do this with MOBAs like DOTA 2 and League of Legends.
For me, it's Call of Duty, I enjoy playing Zombie mode and Spec Ops with my buddies. But that's the thing, I don't purchase the titles every year or get the season pass so I can play the latest popular shooter. I stopped doing that after Gears of War 2, Gamestop will change you like that. Having worked for the big G you get over saturated with bad titles. Unfortunately, the market is crowded with First Person Shooters.
Playing COD for me is the equivalent of loading up Amazon Video and watching Indiana Jones 4, it will bring a smile to my face regardless of the popular or unpopular opinion.
Here is where Ghosts gets interesting, the story sees the whole of Latin America joining forces, calling themselves "The Federation".
Predictably, they decide to invade the U.S. this setting is fresh because it shows you as part of an almost underdog side trying to fend off invaders in the shambles of the southern United States. Finally having taken enough, you decide to take the fight to them.
The characters are standard FPS tropes. You have the badass leader who thinks he is the Doom Marine incarnate, a mentor character who constantly tells you what to do because your character is mute. The new twist here is your canine companion Riley, he acts as a great resource which breaks up the gameplay.
:// FAVORITE MOMENTS
There are many set pieces which are very familiar to veterans of COD, the one which stands out the most for me is the underwater section. In it, you try to plant an explosive device on a Federation carrier. What makes this section interesting is you are fighting Federation forces as you try to avoid sharks as well, those guys do not discriminate.
The game starts [and somewhat ends] in space, these levels have the same feel as the underwater section. The first space level is memorable because it sets up the story, I did not expect it to go where it eventually did. The trailer probably gave up that set piece though, the second space level spices things up by having a dogfight amongst the debris of an exploded space station.
There is a very nice stealth level where you decide to sneak into the Federation's headquarters and infect their main network, I really enjoy those types of missions, they remind me of my Rainbow Six: Vegas days.
The end game takes part during a full out invasion of a key Federation base. After globetrotting throughout the entire campaign it was nice to see that you actually had help. I can swear I heard an NPC yell "America!" as a caravan of tanks steamrolled over the base's main gate.
The final mission takes part on a speeding train, this section was unique because since the game is set slightly in the future, we got to see what a cargo train could look like. I did mess up during the classic COD slow-mo mission ending sequence, had I managed to do it correctly on the first try, just like Modern Warfare, I would have jumped out of my seat.

There is no ax, there is no ax.
:// ENDING COMMENTS
Ghosts ends with the universe wide open for a sequel, hopefully, the do move forward with the Ghost subtitle. This could be a great opportunity to see the Ghosts slowly trying to come back from the brink of total defeat.
The game's Extinction mode is a perfect add on and answer to Treyarch's Zombie mode. I was surprised to see people online still playing on the Playstation 3.
Although, for some strange reason Extinction actually reset my PS3 [twice].
If I could convince my buddies to get the game on PS3 or Steam I would love to run through the entirety of Extinction, since the mode has 5 different chapters, the first being included on the disc. They also have Michael Myers and The Predator available for the multiplayer mode of Ghosts.
However, I did cringe when Infinity Ward said: "We have Michael Myers available for multiplayer, you don the mask, you have THE AX."